---

Results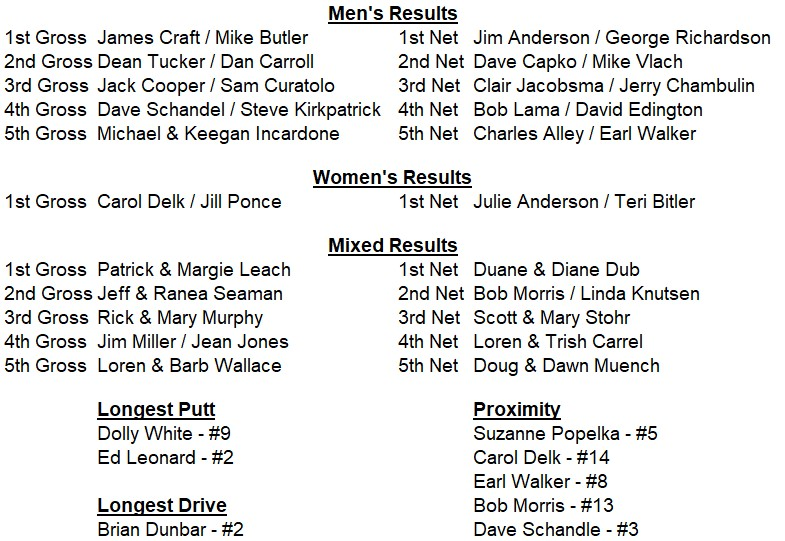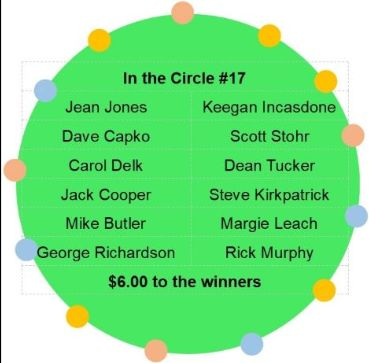 PRO SHOP HOURS UPDATE
Beginning Saturday, October 7, 2023, the SunBird Golf Course will be closed for over seeding until about October 30th. Watch for more details on actual opening date later in the month. After overseed, the Pro Shop hours will be 7:00 am to 4:00 pm daily.
---
Great Canadian Golf Tournament Results
88 players braved the windy conditions and in spite of the weather enjoyed the day. We had four flights and paid 4 teams in each flight. A pizza lunch and delicious homemade cake was enjoyed by all. The Great Canadian Golf Tournament was a huge success! Participants also enjoyed music by Dale Malleck.
Overall winners of the tournament were Mike Goldade's team. Left to right: Joe Boyle, Dawn Boyle, Doreen Silcox and Mike Goldade.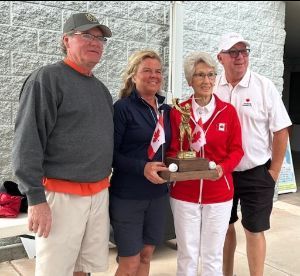 ---
Couples Gross Shootout Results!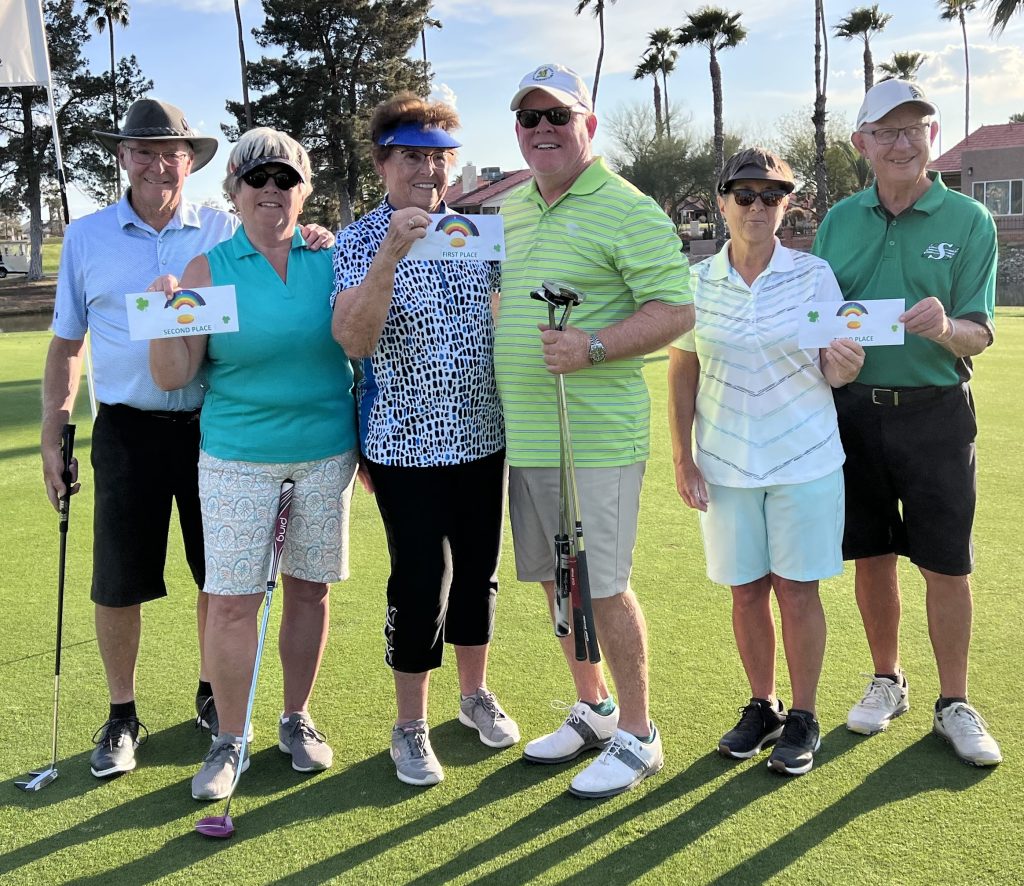 The tension was evident on Friday, March 17th when the Men's Club and Ladies' 18ers players paired off in the annual 9-hole elimination contest. Short chips, missed putts, and errant drives displayed how the pressure was affecting these golfers. Ten couples teed-off together on the first hole but only two couples were left to shoot it out on the ninth hole. And the pressure on them persisted as they tied that hole and had the play it a second time before victory was achieved. Congratulations to Bob Morris and Joyce Gerber who outlasted Bob Gerber and Wendie Cameron to take home First Place. Rounding out the top three couples were Eric Gossling and Cindy Vig who won Third Place.
The rest of the field consisted of: Wayne Onyx and Trish Carrel; Greg Smith and Dolly White; Bob Lama and Viva Smith; Rod McInnis and Melissa Craig; Terry Dellit and Pat McInnis; Dean Huyghebaert and Karen Gilmore; James Morgan and Margie Leach. Alternates were: Rob Bower and Deanna Watkins; Jack Cooper and Shirl Morgan.
Congratulations to the 2023 Couples Gross Shootout Winners!
---
Driving Range
The SunBird Golf Club driving range is a limited distance range. Therefore, the furthest you should be hitting the ball is 150 to 165 yards. It has been noticed that some golfers are intentionally hitting to the back of the maintenance building and/or onto the first fairway. Please be aware this is a dangerous and unacceptable practice. Additionally, it requires extra time to retrieve the balls.

Note: Any member who disregards the rules of the driving range could lose their range privileges. Also, please share this information with any non-member players you meet on the practice range.
Thank you!
---
New Policy Regarding Punch Cards
For the convenience of golfers who use punch cards, the golf shop staff has held those cards in an index box and punched them as appropriate. In order to help ensure agreement on when punch cards are being used, effective immediately the golf shop will no longer hold a golfer's punch card. Golfers acquiring punch cards will retain possession of their own card and present it to the golf shop for each round to be charged against the card. Those golfers who currently have punch cards on file are asked to come in and pick them up. Thank you for your cooperation!
---
Submission of News and Announcements
Leagues, clubs and members are welcomed and encouraged to submit news, announcements of activities and coming events, election results, Holes-in-One, tournaments, etc. for inclusion in the SBGC eBlasts, website and submissions for the SunBird News. Electronic submissions are preferred and should be sent to communications@sunbirdgolf.com; hard copy items will also be accepted. Content for the eBlasts are due on Thursdays; SunBird News content should be submitted to the Golf Shop at least 30 days prior to the publication date.
---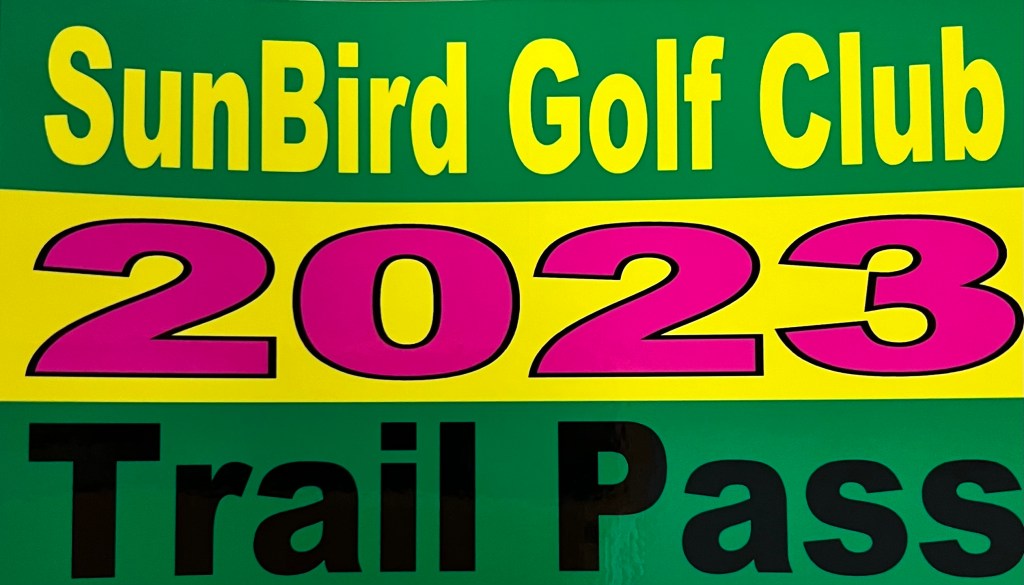 Stop in the Golf Shop to purchase the 2023 Trail Pass. Trail passes are valid from 1/1/23 – 12/31/23 for golfers using their cart on the course and are not prorated. The current rate is $75. Purchasing your 2023 Trail Pass also includes the privilege to practice on the practice green in the back of the driving range.
---